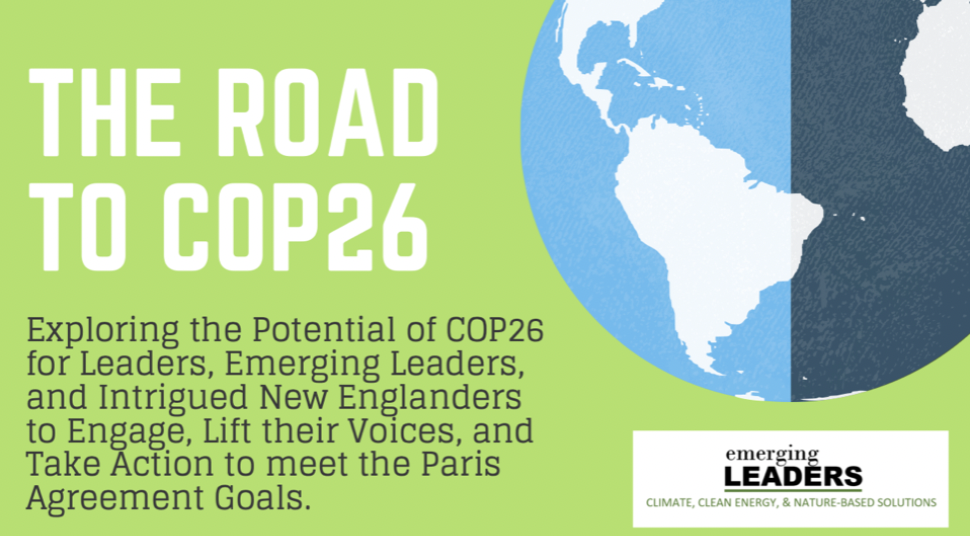 Fall 2021 Save the Date
"The Road to COP26"
(the 26th UN Congress of the Parties)
Tuesday, October 19, 2021 | 4:00 – 7:00 p.m. EDT
This event has passed. Watch a recording of the event here:
https://vimeo.com/637174234/deeb36f6bf
About
Taking place between Oct. 31 to Nov. 12, 2021, COP26 might just be the most instrumental event in climate change of the year. The ECLC is hosting an information session to give interested viewers a glimpse into what actually happens at this high-profile event. A panel of students of all levels is also invited to engage with climate leaders and professionals tackling these issues every day because the discussion on climate change can happen anywhere.
Goals
COP26 event as well as clear up any myths
Discuss intergenerational science and climate change policy
Encourage youth to become more aware of the global dynamics influencing climate change
A preview of our Emerging Leaders panelists!
Agenda & Speakers
---
Overview
4:05 pm w/Moderators Rob Werner, NH State Director, League of Conservation Voters & April Salas, Executive Director, Revers Center for Energy, Dartmouth Tuck School of Business at Dartmouth College

Joined by experts:
Dr. Peter Abbott OBE, British Consul General in Boston
Robert Stowe, Executive Director, Harvard Environmental Economics Program (HEEP)
Tim Horgan, Executive Director, World Affairs Council of New Hampshire
Adapt to Protect Communities and Natural Habitats:
4:45 pm w/Moderator Anthea Lavallee, Executive Director, Hubbard Brook Research Foundation

Joined by experts:
Dr. Steven Hamburg, Environmental Defense Fund, Chief Scientist and Hubbard Brook Principal Investigator
Dr. Pamela Templer, Boston University, Professor of Biology and Hubbard Brook Principal Investigator
Followed by Emerging Leaders' Panelists:
Emma Conrad-Rooney of Boston University
Jesse Ferraioli of Dartmouth College
Samuel Purdom of Dartmouth College
Mobilize Finance
5:20 pm w/Moderator April Salas, Executive Director, Revers Center for Energy, Dartmouth Tuck School of Business at Dartmouth College

Joined by Experts:
Steven Rothstein, Ceres, Inc., Managing Director, Ceres Accelerator for Sustainable Capital Markets
Andrew Marino, Senior Managing Director and Head of Strategy, Generate Capital
Followed Emerging Leaders' Panelists:
Ophelia Bentley of Phillips Exeter Academy
Bea Burack of Dartmouth College
Kate Yeo of Dartmouth College
James Lee of Northfield Mount Hermon
Secure Global Net-Zero by Mid-century and Keep 1.5 degrees within Reach
5:55 pm w/Moderator Rob Werner, NH State Director, League of Conservation Voters,

Joined by Experts:
Phil Giudice, Member, Secretary of Energy Advisory Board (SEAB); Former Special Assistant to President Biden for Climate Policy; Board Chair at FirstLight Power
Abby Hopper, President and CEO of Solar Energy Industries Association
Followed by the Emerging Leaders' Panel:
Sophie Harris of Cornell University
Kai Parlett of the University of New Hampshire
Nat Wood of Keene State College
Nathan Driker of the Holderness School
WORK TOGETHER TO DELIVER: ENGAGE, LIFT OUR VOICES, AND TAKE ACTION
6:30 pm w/Moderator Susan Kaplan, Founder, Sustainability Futures Consulting

Joined by experts:
Pam Templer, Associate Chair, Steering Committee of the YEAH Network
Jen Kretser, The W!ld Center, Director of Climate Initiatives
Tiernan Sittenfeld, Senior Vice President, Government Affairs, League of Conservation Voters
and Special Guest:
Senior U.S. Administration Official
6:55 pm Conclusion by Susan Kaplan & Anthea Lavallee