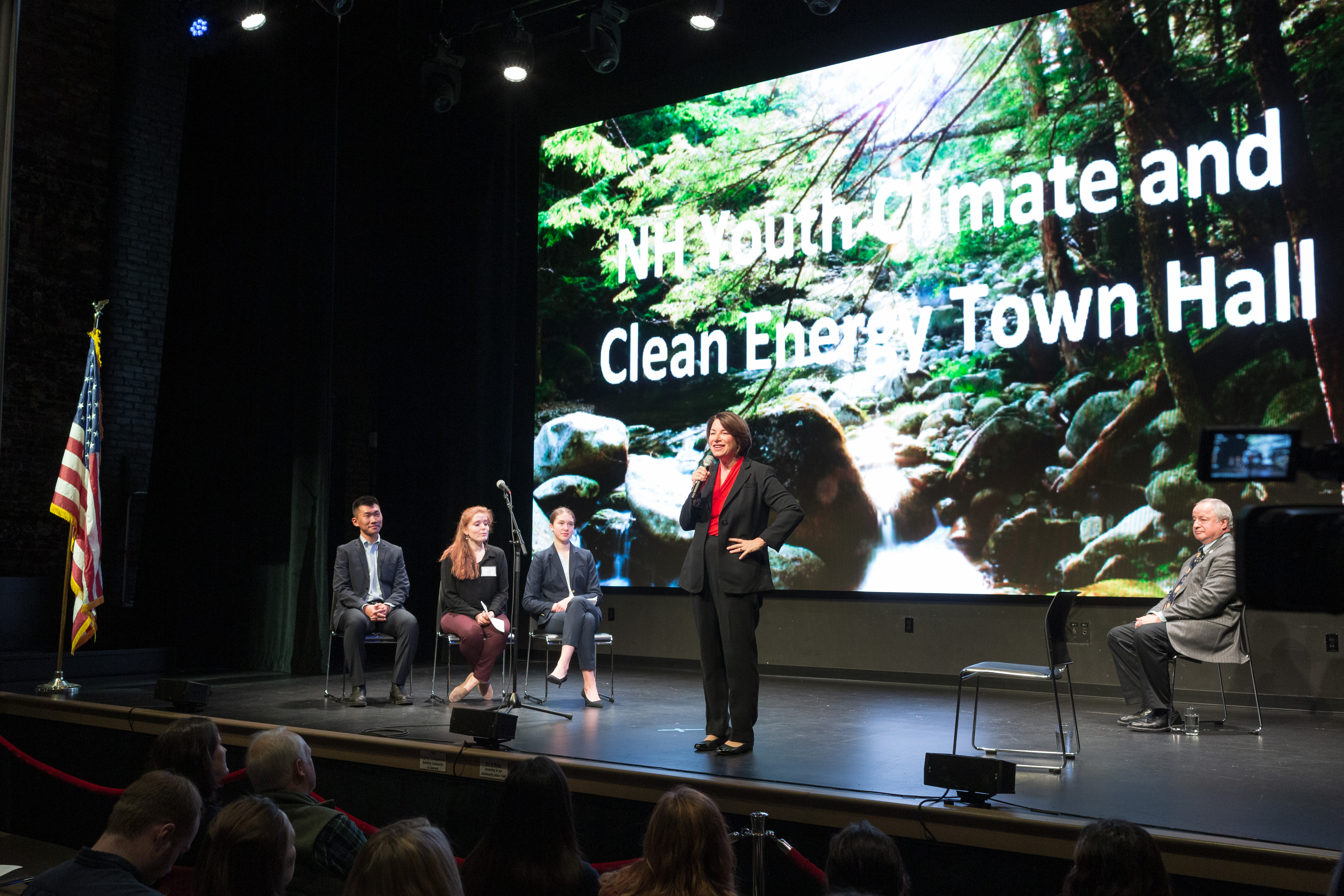 Spring 2020
"NH Youth Climate and Clean Energy Town Hall"

Wednesday, February 05, 2020 | 9:00 a.m – 5:00 p.m. EDT
In-Person Event
There was no recording of this in-person event, but there are photographs..
The Emerging Leaders panelists that participated in this event
About
Climate change is among the most pressing environmental issues of our time. On the basis of this shared belief, the co-hosts and partners of the ECLC came together to plan an educational forum to engage NH students in a public dialogue with 2020 presidential candidates about climate. This youth-centered event, co-hosted by the Hubbard Brook Research Foundation, the Tuck School of Business at Dartmouth College, and Stonyfield Organic, was free and open to the public.
Attendees (in order): U.S. Senator Amy Klobuchar, Mayor Pete Buttigieg, Governor William Weld, Varshini Prakesh for U.S. Senator Bernie Sanders, Governor Deval Patrick, Andrew Yang, Tom Steyer, and Dr. Ayana Elizabeth Johnson for U.S. Senator Elizabeth Warren. Several candidates could not attend (Michael Bennet) or were represented by surrogates due to a critical Senate vote that day (Senators Bernie Sanders and Elizabeth Warren).
Goals
Spotlight candidates' climate plans
Elevate New Hampshire's young voices to discuss intergenerational science and climate change policy
Encourage youth to become more aware of the global dynamics influencing climate change
Agenda & Speakers
---
7:00 AM 
Doors Open to Public and Introductions
Joined by speakers:

Anthea Lavalle, Executive Director of the Hubbard Brook Research Foundation
Gene Likens, Co-founder of the Hubbard Brook Ecosystem Study at the Hubbard Brook Experimental Forest
Gary Hirshberg, former CEO of Stonyfield Farm
April Salas, Executive Director of the Revers Center for Energy
8:15 AM – 10:15 AM
First set of speakers w/ Moderator Alden Meyer, Senior Associate at E3G
8:15 AM Joined by Senator Amy Klobuchar & student panelists:

Clarice Perryman
Kevin Yuan
Beatrice Burack

9:15 AM Followed by Mayor Pete Buttigieg & student panelists:

Melina Sanchez-Montanes
Jedidiah Crook
Saskia Braden

10:15 AM Followed by Governor Bill Weld & student panelists:

Casey McGuire
Chris Callahan
Sadie DiCarlo
11:15 AM – 2:15 PM
Second set of speakers w/ Moderator Henry Herndon, Consultant at Community Power Coalition of New Hampshire
11:15 AM Joined by Varshini Prakesh, representative of Senator Bernie Sanders & student panelists:

Olivia Gresham
Ashley Lang
Melina Sanchez-Montanes

12:15 PM Followed by Governor Deval Patrick, former governor of Massachusetts & student panelists:

Katelyn Fournier
Kevin Yuan
Ashley Lang

1:10 PM Followed by Rob Werner, Concord City Councilor 
15-minute break
2:15 PM Followed by Andrew Yang & student panelists:

Olivia Gresham
Caitlyn Hatzell
Laura Walk
3:15 PM – 5:15 PM
Third set of speakers w/ Moderator Tiernan Sittenfeld, Senior Vice President of League of Conservation Voters
3:15 PM Joined by Senator Michael Bennet & student panelists:

Alex Wood
Hannah Gaudet
Caitlyn Hatzell

4:15 PM Followed by Tom Steyer & student panelists:

Isabel Boettcher
Catherine Bregou
Katie Bennett

5:15 PM Followed by Dr. Ayana Elizabeth Johnson, representative of Elizabeth Warren, & student panelists:

Laura Walk
Alex Wood
Natalie Dokken
~6:15 PM Closing Remarks by Roger Stephenson and End of Event